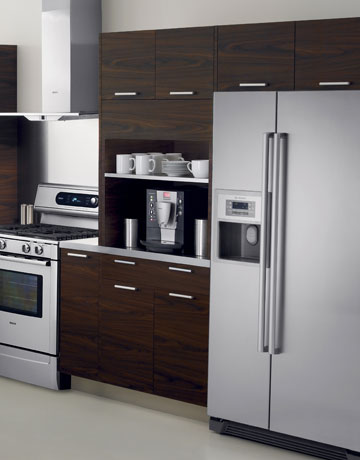 You made a significant investment in your Sub-Zero refrigerator for its excellent capacity, durable performance, and stylish good looks. So when something is amiss with this high-end appliance, don't risk making the situation worse by relying on a repair company that lacks the necessary credentials to do the job right. With Essential Appliance, Inc. at your service, you can rest easy knowing that your Sub-Zero refrigerator repair is in the very best of hands. Our licensed and insured refrigerator repair specialists boast more than a decade of hands-on experience in the refrigerator repair industry. As a result, we're fully qualified and equipped to work on your Sub-Zero refrigerator problems, whatever they may be, including:
Inadequate cooling
Water leakage
Lighting issues
Excessive cycling
Unusual noises
Doors that won't seal
And others
As a local, family-owned company, Essential Appliance, Inc. has been responding to the calls of Palm Beach-area customers since 2005. We understand the importance of timely refrigerator repairs. That's why we make every effort to diagnose and correct the situation with your Sub-Zero refrigerator problems in the smoothest and most efficient manner possible. So whether you're a homeowner looking for a residential repair or a business owner seeking commercial service, we're the company to count on for swift and effective Sub-Zero refrigerator repair. In fact, we work on all major brands of high-end refrigerators, including Wolf, Bosch, and Thermador, and we even offer 24-hour emergency service for your most urgent refrigerator repairs.
So don't trust your Sub-Zero refrigerator repair to just any appliance repair company. Depend on the skilled technicians at Essential Appliance, Inc. for the specialized service you need to troubleshoot and restore your top-of-the-line kitchen appliance. Not only will our timely and expert refrigerator repair service help you save hundreds of dollars worth of perishable food from spoilage, but it could save you thousands over the cost of having to replace your expensive unit with a brand-new purchase. Plus, as part of our firm commitment to reasonable rates on Sub-Zero refrigerator repairs, we'll even apply your service call fee toward the cost of your completed repair.
Years of hands-on experience, expedited turnaround times, and extremely reasonable rates: Essential Appliance, Inc. has all that and more. Give us a call today for all of your residential and commercial refrigerator repairs, including high-end Sub-Zero refrigerator repair and maintenance.