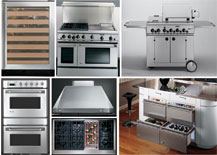 At Essential Appliance, Inc., we specialize in a wide range of appliance repairs. While we excel at performing appliance repair for residential models, we're also available to provide you with top-quality craftsmanship for commercial models as well. Whether you own a restaurant or a laundromat, you'll be blown away by our dedication to flawless craftsmanship at all times. From commercial dryer repair to walk-in refrigerator repair, our experts are here to provide you with the well-rounded set of skills you need to get your business's appliances back on track. We've been the premier appliance repair company in Palm Beach since 2005, and our technicians have more than 10 years of experience in the trade. When it comes to projects like commercial washer repair, industrial-sized dishwasher repair, and restaurant oven repair, we're the local experts you can count on. For truly dependable workmanship and affordable rates, contact Essential Appliance now!
Commercial appliance repair is an essential part of keeping your business running smoothly. From laundromats to sports bars to restaurants, the seamless operation of your business depends a great deal on the condition of your appliances. After all, short order cooks can only churn out meals as quickly as their cooking appliances will allow them to; likewise, patrons of your laundromat will only give you their business if they're confident that your washers and dryers are in working order. So if you start to notice signs of deterioration in your business's appliances, call Essential Appliance for commercial appliance repair as soon as possible. Our technicians will deliver prompt, accurate handiwork for virtually any commercial appliance service, including:
Walk-in refrigerator repair
Restaurant oven repair
Restaurant fryer repair
Coin-operated washer repair
Coin-operated dryer repair
Commercial dishwasher repair
And more!
With Essential Appliance on your side, you won't have to worry about receiving mediocre work at an inflated price. We're committed to providing all of our customers with truly exceptional results without blowing their budget—a point that should be especially salient for disciplined business owners. Your service fee will be incorporated into the total appliance repair cost, so you won't be paying any extra charges. For your added protection and security, we're also fully licensed and insured. So if you're eager to get your business back on track with expert dishwasher repair, refrigerator repair, or dryer repair, call Essential Appliance today!