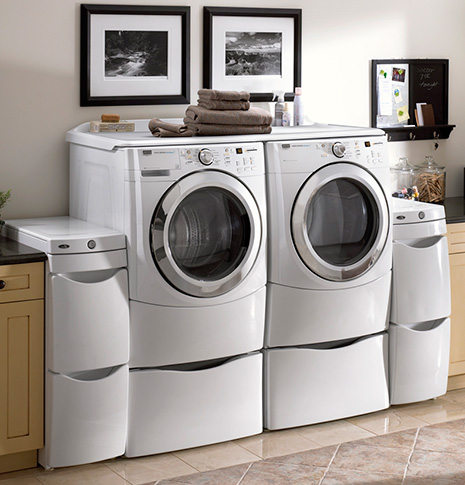 Have you noticed an increasing amount of trouble with your dryer? Has it stopped tumbling effectively? Is it not heating up sufficiently? Whatever the case may be, a dryer that's providing inferior performance can be a huge detriment to your daily convenience. Without a properly functioning dryer, all of your laundry-related chores will be severely delayed, thus interfering with your finely tuned schedule. But a broken drum belt or door switch doesn't mean you have to let your modern-day conveniences suffer! When your faulty dryer has you in a bind, call Essential Appliance for prompt, affordable dryer repair. We're your solution for expert washer-dryer repair services in Palm Beach, and we'll outfit your laundry room with some of the most effective handiwork around. Whether you need Maytag dryer repair, LG dryer repair, or Sears dryer repair, you can expect nothing but well-rounded expertise and know-how from our pros. Call or e-mail us now to get started!
If your dryer is exhibiting signs of a major performance issue, you don't necessarily have to replace the entire unit. In most cases, the trouble is only the result of a minor defect with one the dryer's parts. However, that doesn't mean you should attempt a DIY clothes dryer repair, either. Instead of spending heaps of cash on a replacement model or wasting an entire Saturday afternoon tinkering with dryer parts, you can toss out that dryer repair manual and get affordable service from Essential Appliance. Our services are designed to provide you with the top-notch craftsmanship and expertise you need to get your dryer back up and running. Although dryer repairs are certainly not easy, our expert technicians have the years of experience and skill necessary for performing flawless work. From Whirlpool dryer repair to Maytag dryer repair, we do it all. We're able to address all of the most common dryer problems, including: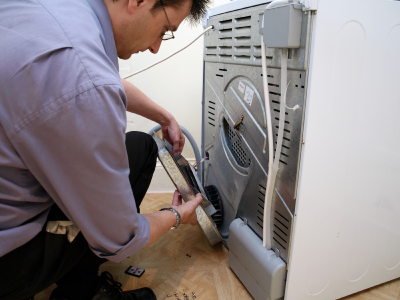 Not tumbling
Not drying efficiently
Not producing enough heat
Not starting at all
Overheating
Marking and tearing clothes
Making loud noises
A broken dryer shouldn't spell disaster for you and your laundry. If you're experiencing performance issues with your dryer, all you have to do is call the team of technicians at Essential Appliance for professional assistance. Our efficiency and precision will save you lots of time and money down the road, and you'll be back to folding fresh, clean, dry laundry in no time. We're the pros in Palm Beach you can rely on for affordable rates, helpful technicians, and remarkable service. Contact us to set up your very own washer-dryer repair service call today!
Dryer Vent Cleaning
On top of standard dryer repair services, Essential Appliance also offers dryer vent cleaning services. Clogged dryer vents decrease air flow and increase dryer run times, but they also create fire hazards. However, when you call our washer-dryer repair experts, we can clean out your dryer vent for both safety and improved dryer performance.
Dryer vent cleaning can prevent:
Dryer thermostat malfunctions
Excessive dryer run times
Potential fire hazards
And more!
Essential Appliance, Inc., performs dryer vent cleaning services as preventative maintenance as well as to help alleviate existing problems, so give us a call no matter what your dryer duct cleaning needs may be. Our team will carefully disconnect your dryer's vent duct hookup and then clean out the entire system. You'll be amazed at how much lint and other debris will have built up in your vent—but there can also be lint filling the lint catcher, around the motor, and throughout the back of the dryer. When you call Essential Appliance, we'll remove all of the accumulated dust and grime for the health of your dryer and the safety of your home.
Your solution for complete dryer repair and vent cleaning in West Palm Beach, our professionals are your solution for the comprehensive expertise you need for a fully functional, safe dryer. Learn more when you call today.
Commercial Dryer Repair
No matter what the setting or location, if you need commercial dryer repairs, you won't be able to settle for just any appliance repair company. For truly talented workmanship on your commercial clothes dryer repair, you'll need to call Essential Appliance. With more than 10 years of experience in the trade, our collective knowledge and hands-on training is more valuable than any dryer repair manual you might get your hands on. We're dedicated to providing all of our customers with impeccable service, great rates, and total satisfaction. Our technicians will work until the problem is fixed and your commercial or industrial-sized dryer is restored to full functionality. If you want to get your business back up and running with professional dryer repairs, we're the team for you. Contact Essential Appliance, Inc., via phone or e-mail to learn more.