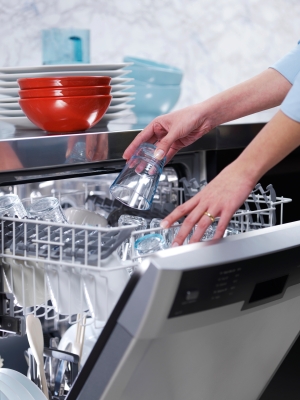 If your dishwasher is acting up, you can be left with a serious amount of inconvenience and frustration. Whether it's leaking water all over your floor, leaving food residue on your dishes, or making terribly loud noises when it runs, your malfunctioning dishwasher won't get better unless you opt for professional dishwasher repair. At Essential Appliance, we offer thorough dishwasher repairs and services to homeowners throughout the Palm Beach area. Our expert technicians are available to provide you with the unbeatable craftsmanship, precision, and efficiency you require for a fully functional dishwasher. Whether it's basic dishwasher rack repair or complete valve replacement you need, you'll be getting the accurate, time-saving dishwasher repairs you truly need. If you're ready to get your kitchen cleanup chores back on track, call or e-mail Essential Appliance today!
With all their water lines, hoses, and other parts, you might find dishwasher repairs to be extremely difficult. Not to worry: the pros at Essential Appliance are here to help. We strongly advise against attempting a DIY dishwashers repair, no matter what you think might be wrong with it. Whether it's Maytag dishwasher repair, Bosch dishwasher repair, or GE dishwasher repair, the required skill level will most likely be way out of your league. Instead, let our professional technicians do the hard work for you. We have more than 10 years of experience performing dishwasher repairs of all capacities, and we'll work tirelessly to make sure all of your performance problems are eradicated. From small water-inlet valves to major heating elements, we're well-versed in the myriad dishwasher parts involved. With our team at the helm of your dishwasher rack repair or other service, you can rest assured you're being outfitted with the most accurate work available. Give us a call if you notice any of the following common dishwasher problems:
Messy leaks
Rancid smells
Difficulty draining
Insufficient water flow
Not starting
Unclean dishes
And more
Don't waste hours of your life hunched over your kitchen sink scrubbing dirty dishes by hand. If your dishwasher isn't working properly, call Essential Appliance for an immediate dishwasher repair! We're able to work on models from all of the industry's leading manufacturers, so whether you need GE dishwasher repair, Maytag dishwasher repair, or Bosch dishwasher repair, you'll be in good hands. 
At Essential Appliance, we're committed to providing you with the top-notch service and expertise you need for optimal, long-lasting performance. If you're not overjoyed by the thought of paying for a complete dishwasher replacement, then our affordable dishwasher repair rates will give you everything you're looking for. Contact us today!
Commercial Dishwashers Repair
Whether you own a restaurant, hotel, or sports bar, you know that having a constant flow of clean dishes is absolutely critical to the success of your operation. After all, if you don't have clean dishes when you need them, then you won't be able to serve your guests! That's why it's important to meet any problems with your dishwasher head on. Call Essential Appliance, Inc., for professional dishwasher repair in Palm Beach, and we'll have your unit back to running as smoothly as possible.