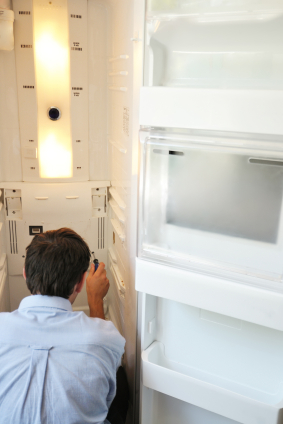 Do you need refrigeration repair in your commercial kitchen in or around Palm Beach? Whether you have a commercial ice maker that refuses to freeze water or commercial refrigeration units that aren't keeping your food cold and fresh, Essential Appliance, Inc. has you covered. We're a licensed and insured commercial refrigeration repair business with more than a decade of experience in the industry, and we're ready to put our skills and knowledge to work in your kitchen. You can trust our technicians for fast and reliable repairs, whatever issues you're having. We're even available in an emergency situation, if you need commercial refrigerator repair as soon as possible. Learn more and schedule your appointment by calling us today!
At Essential Appliance, Inc., we have what it takes to work on:
Commercial refrigerators, including walk-in units
Commercial freezers
Commercial ice maker units
And more!
We can tackle inadequate cooling, overcooling, door seal issues, interior light problems, and just about any other refrigeration repair issue you might face. We even work on sealed systems and refrigerant leaks, unlike many other repair companies. Because of our experience in the field, we'll be able to promptly and accurately diagnose the root cause of the problem you're having and take immediate and effective steps to repair it. We strive to offer exceptional commercial refrigeration service with a quick turnaround whenever possible, because we understand that your business's operation depends on having working commercial freezers, fridges, and ice makers. We'll get your kitchen back in action soon.
Service Fee Applied Toward Commercial Refrigerator Repair
Some appliance repair companies charge you a service fee for diagnostics and then add repair costs on top of that. Not Essential Appliance, Inc. We'll always apply your service fee toward the total cost of commercial refrigeration repair. As a business owner, you have to keep an eye on your bottom line at all times, and choosing Essential Appliance, Inc. for fridge, walk-in freezer, or ice maker repair means getting a good deal as well as quality repairs.
Call or e-mail Essential Appliance, Inc. today to learn more about the refrigerator, freezer, and ice maker repair services we offer. Whether you own a restaurant, a cafe, a hotel, or any other establishment that needs commercial refrigeration in order to function, we'll be there for you when you need us!